Free iPod !!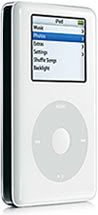 Would you like a
free iPod
? I know this sounds crazy, but you really can get one of these if you don't mind jumping through a couple of hoops. What do you do? Click on the free iPod link or on the picture at the left and sign up at FreePay - you have to wade through a bunch of stupid questions and then finally you come to this page where you have to select an offer out of maybe 15 various offerings (Blockbuster movies, Music clubs,etc). Once you sign up for one of these (and yes, you can cancel before your 30 day trial period has elapsed), then you can start referring your own friends. Get 5 friends to sign up and complete an offer and kazaam! - A new Ipod! I'm shooting for the 30GB iPod - so far 3 folks have signed up, so I'm almost there. I signed up for a month's worth of Blockbuster movies delivered to the house - figured for $10, I could probably manage to get and return at least 10 movies within that first month and then I can cancel, should I so choose.
Wondering if there is a catch? Well, really there isn't - you just have to suffer through the various screens and complete the offer. Still dubious? Check out
this Wired News Article
.